Sugaring
Sugaring hair removal strips for body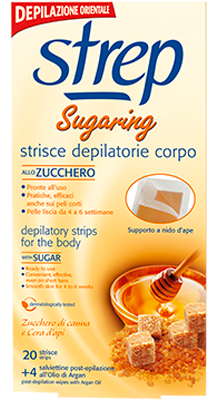 Body sugaring
The Strep Sugaring strips, inspired by the traditional oriental hair removal technique, guarantee quick, convenient and great results. Formulated with Cane Sugar and Beeswax, ingredients noted for their skin protecting properties. leaving the skin with lasting softness and silkiness. The soft and flexible "honeycomb" texture strips, adhere perfectly to the skin, guaranteeing your comfort.
What's inside
Content
20 strips on honeycomb fabric
4 post-epilation wipes
TIME
Ready to use
How to use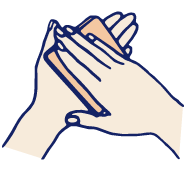 Step.1
Warm up a strip by rubbing it in your hands for a few seconds.
Step.2
Slowly separate the two parts of the strip.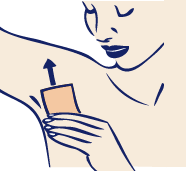 Step.3
Apply the strip to the hair removal area following the direction of the hair growth, pressing with your hand to make sure it adheres well.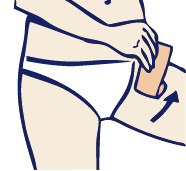 Step.4
Holding the skin taut with one hand, grab the bottom end of the strip and pull it with one clear and decisive motion, in the direction opposite the hair growth, keeping the strip as close as possible and parallel to the skin. If necessary, repeat. Each strip can be used a number of times until it is no longer effective.
How to use
Using this product is simple and quick. Before removing hair, make sure that hair is between 2 and 5 mm long, and if there is excessively long hair, cut it first with scissors. The skin must be completely dry, not oily or greasy.